Dan Frank is one of a few industry leaders being recognized on May 1, 2018, for his use of innovation, data, and improvement in intergovernmental collaboration with Three Wire's VetAdvisor® Program.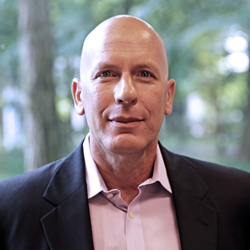 FAIRFAX, VA. – APRIL 30, 2018 – Three Wire Systems, LLC (Three Wire) announces its Chief Executive Officer, Dan Frank, has been awarded a 2018 Service to the Citizen, Champions of Change Award being recognized as an industry leader who demonstrates excellence in public sector service delivery
The Service to the Citizen Awards is a part of the Champions of Change program and presented by Dorris Consulting International. The award winners include government and industry, including teams who have leveraged innovative technologies and agile methods, used innovative contracting methodologies, worked across government boundaries, and sacrificed their personal lives to improve digital services and modernize networks and the IT infrastructure.
"Dan has leveraged his experience, expertise, and passion to support veterans at critical times in their lives. Improving the lives of veterans is important as they return to their civilian lives," said Martha Dorris, Founder of DCI and creator of the Service to the Citizen Awards. The VetAdvisor® program uses data to improve veteran services by eliminating geographical barriers.
Dan Frank, CEO of Three Wire, started the company in 2006 with the vision to become a leader in innovative and efficient technology solutions for government agencies and large enterprise corporations. In order to break down barriers to success for uniformed professionals and veterans, Frank began VetAdvisor® as a part of Three Wire's Services Division. VetAdvisor® leverages Three Wire's technological expertise and military cultural fluency to lead the market in protecting, supporting, and advocating for the nation's uniformed personnel community.
"I'm very excited and humbled to receive this award from the Champions of Change program and want to thank all my colleagues, mentors and the Three Wire employees throughout the years," said Dan Frank. "Three Wire and the VetAdvisor® Program has reached a lot of the goals that I set out to accomplish more than 10 years ago and there is so much more now that we want to achieve moving forward."
Three Wire is a Platinum Sponsor, partnered with Dell EMC, at the celebration luncheon on May 1, 2018 at the Willard Intercontinental in Washington, D.C.
For more information about Three Wire, visit https://www.threewiresys.com/. Connect with Dan Frank on LinkedIn at https://www.linkedin.com/in/dan-frank-60752516/.
Congratulations to all of the winners! You can view the complete list here.
About Three Wire Systems 
Founded in 2006, Three Wire is the leader in innovative and efficient technology solutions for government agencies and large enterprise corporations. With solid program management and process improvement principles, they design solutions that support business goals and deliver superior results in a cost-efficient manner. Three Wire believes in maximizing investments American taxpayers have already made in the government and military while modernizing and securing America's most important information, infrastructure, and assets. For more information about Three Wire, visit https://www.threewiresys.com/.
About Dorris Consulting International 
Dorris Consulting International (DCI) is a woman-owned small business that leverages the knowledge and experience of Martha Dorris' 30-plus years of government and private experience in information technology, acquisition, digital government services, and leadership. In addition, she has developed a network of IT and digital government officials within the US and around the world.
DCI is supporting companies that specialize in all aspects of customer experience (CX) including strategic consulting, contact centers, and communications and media. In addition, DCI supports the creation of a government and industry CX Community of Interest (CoI); the transfer of knowledge and experience from government-to-government, industry-to-government and between the US and other national governments; and continuing the knowledge transfer of CX through training and education.